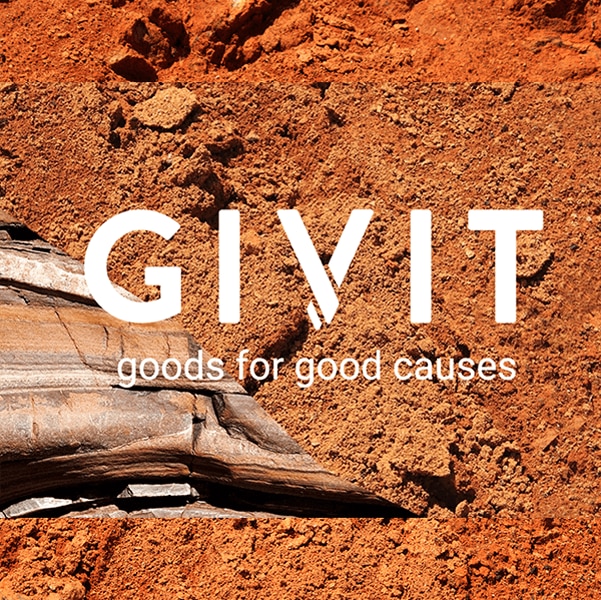 Being kind is totally cool. In fact, we're all about it. We also believe in putting our money where our mouth is, actively working with and supporting charitable organisations that are making a big difference to the lives of Aussies.
In 2018, we were proud to launch our partnership with GIVIT, a not-for-profit organisation connecting those who have with those who need.
GIVIT works to alleviate poverty in Australia by assisting community service providers to obtain the goods they need more efficiently. Their platform makes giving easy, allowing users to see exactly what is needed by vulnerable community members. Its virtual warehouse eliminates the need to store, sort and dispose of unwanted items, saving valuable time and resources.
We work with GIVIT on an ongoing basis to donate clothing to the most vulnerable members of our community. We also provide disaster recovery relief and support their appeals for Back to School and Winter.
The goods we offer not only help bring comfort to vulnerable Aussies, they also help the environment by staying out of landfill – a BKind principle that is always top of mind and close to our hearts!
GIVIT has a fascinating backstory, with Founder and Director Juliette Wright OAM discovering the huge gap between what people were donating to charities, and what was really needed.
Following the birth of her second child in 2008, Juliette was surprised at the struggle she endured trying to donate second-hand baby clothes to someone in need. Instead, local charities were desperately searching for essential items such as sanitary products for women who had fled domestic violence and steel-capped boots to enable unemployed fathers to secure work.
Juliette quickly realised it wasn't about overloading charities with items but instead recognising the specific needs they had to help pull their clients out of poverty. She also realised many charities had no way of communicating their exact needs. Juliette decided to create an online platform where every charity in Australia could obtain exactly what they needed through the simple act of giving. Within six months, Juliette had set up the website and recruited 15 charities to request items. A donated bike enabled a single mother to get to work and donated microwave heated meals fed a man who had recently lost his wife and was unable to cook.
Within a few weeks, more than 80 charities were requesting items and GIVIT quickly turned into a national network, connecting thousands of Australians wanting to support hundreds of charities.
The online platform continued to grow and played a significant role in 2011 when Queensland was hit by devastating floods and an overwhelming number of people desperately needed essential items to help rebuild their lives.
Then-Premier Anna Bligh turned to Juliette for help and GIVIT became the state government's official website for matching donors and recipients so that charities weren't swamped with excess goods. The GIVIT website received 1.8 million hits in 10 days and more than 33,500 goods were matched in three weeks. This led to the establishment of a dedicated GIVIT Disaster Recovery service.
In 2013, the Queensland Government entered into an official partnership with GIVIT for the management of donated goods and services, including corporate offers of assistance, during the recovery phase of natural disasters.
We are so thrilled at Bonds to be able to support GIVIT on a regular basis, donating unsold clothing for adults, kids and babies, as well as raising money in our offices and participating in annual drives, especially around Christmas.
Being kind can be simple, and GIVIT has helped to make giving simple. To find out more head to http://www.givit.org.au/.