Introducing Re-Loved: Our Recycled Range
product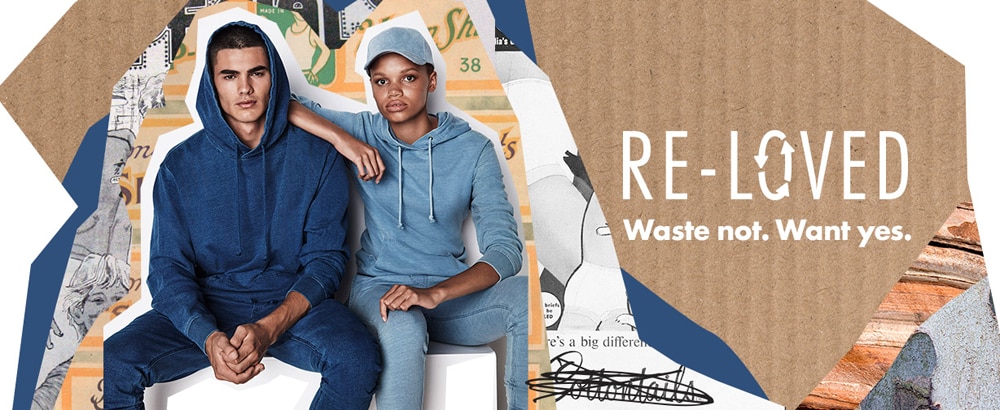 Worried about waste? Us too. That's why we've been busy working on creating a range that breathes fresh life into 'waste fabric,' by turning it into sweats and tees that do good, look good and feel good. Each piece in our new Re-Loved range (exclusive to Bonds online and stores) is made from yarn blended with cotton fabric off-cuts, so what was once destined for the landfill will now fill Aussie wardrobes instead. Textile waste is a huge problem in our industry. Re-Loved uses a minimum of 30% reycled cotton, transforming fabric off-cuts into men's and women's denim-wash terry hoodies, trackies and pullovers and basic cotton tees. In fact, in creating the range we've recycled 9.5 tonnes of cotton fabric off-cuts. Why? Because fabric belongs in wardrobes, not landfill. "The Re-Loved range echoes Bonds' greater commitment to a kinder future. We are not 100% there yet but we are making changes and are committed to continually working towards zero waste," says Emily Small, Bonds' marketing manager. In continuing our journey of remaining authentic, we've used a traditional indigo rope dying technique to achieve our recycled denim-inspired sweats. Indigo is an ancient dye, made from fermented leaves of the Indigofera plant. Through twisting the yarns into a rope, which are then dipped into indigo baths colouring only the outside of the yarn, we've created a faded effect which will increase over repeated wear and washing. The result? A range that's cool like denim, and comfy like sweats. Here at Bonds, Re-Loved is only the beginning. When it comes to minimising our impact on the environment, we've got big plans. You can read more about what we're doing via our Sustainability page.
---