Our 2020 Environmental Goals
planet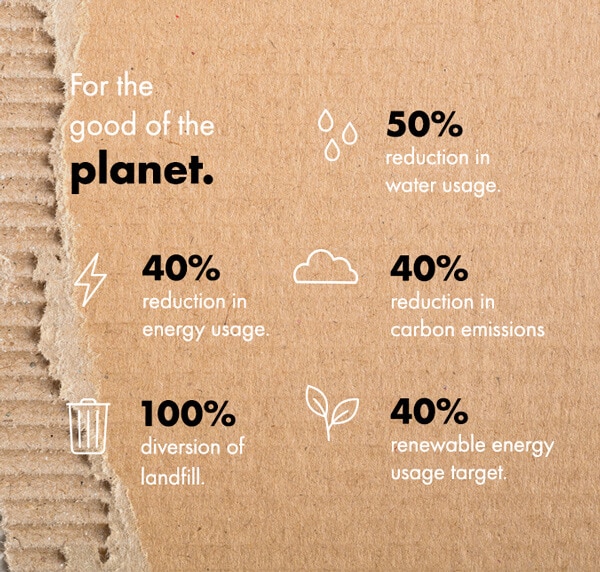 Our 2020 Environmental Goals
Worried about the environment? Us too!
We know that we are one of the first generations to truly understand our impact on the planet, and the last to be able to fix it. It's scary stuff, but this fear can only be met with action.
Here at Bonds, we know that we're not perfect, we definitely have a way to go. But as part of a global company, Hanesbrands, we are committed to reducing our environmental footprint. Hanesbrands' 2020 global environmental goals include:
• 40% reduction in energy usage.
• 40% reduction in carbon emissions.
• 50% reduction in water usage.
• 100% diversion of landfill.
Find out more about Hanesbrands' commitment to sustainability at Hanes for Good.
We aim to be a leader in environmentally sustainable practices within the fashion industry. We know that we have a responsibility to act in a way that is good for the planet. And that means reducing, replacing with better, and recycling wherever we can.
Sustainability is a value that our company and our people are passionate about and is one of our company's strategic priorities. From reducing our energy and water usage, diverting landfill through recycling programs and minimizing plastic usage, to making more sustainable choices in our offices around the world, we are actively working to be better.
On the small end of the scale, we are encouraging our office employees to swap their coffee cups for reusable ones and significantly reduce their use of paper and cardboard – paperless is where it's at!
In the supply chain, we've removed plastic hangers from our online orders and are researching ways we can eliminate any unnecessary packaging. We're also striving for all consumer packaging to be reusable or recyclable by 2025.
Our design and production teams have even developed our first recycled range, Re-Loved, made from a minimum of 30% cotton fabric off cuts that would have otherwise ended up in landfill. Stay tuned for more exciting things to come!).
Our sourcing teams work to ensure that globally our practices continue to meet our high ethical standards. Find out more about our commitment to B-ing Kind to our people.