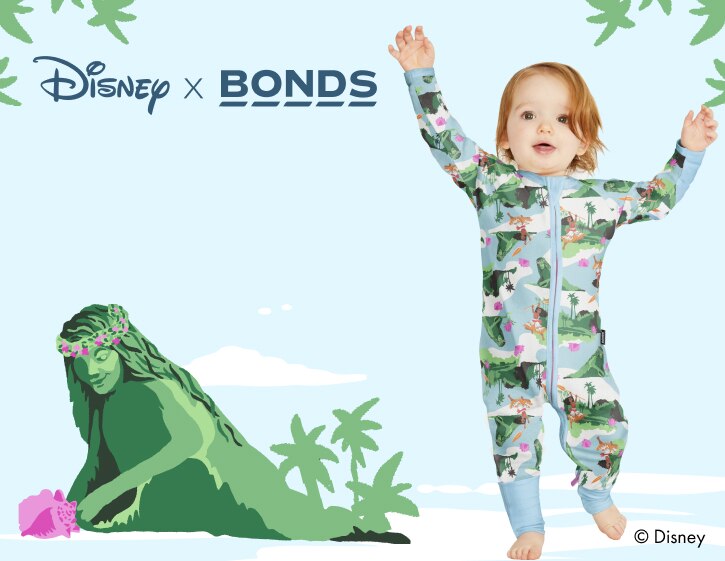 Moana
Shop our exclusive Moana range online only.
Moana
Shop our exclusive Moana range online only.
GOT A QUESTION?
Set sail into our FAQ
Where can I buy the Bonds x Moana range?
What's in the new Bonds x Moana Range?

This Bonds x Moana range is packed full of fun with Baby and Kids products including Zippys, Sleep Sets, Kids Tees, Kids shorts, Kids dresses!
What sizes is the Bonds x Moana range is available in?

The Bonds x Moana range is available across the below products and sizing:

Baby Zippy (size 0000-3) available in four print
Sleep Sets (size 1 – 10) available in four prints
Kids Dresses (size 1-7) available in one print
Kids Bike Shorts (size 1-7) available in one print
Kids Shorts (size 1-7) available in two prints
Kids Tees (size 1-7) available in two prints
I wasn't notified in time that the range was launching and missed out.

We're sorry to hear you're disappointed. Following feedback on our last few launches, we heard our customers loud and clear. To ensure the best possible shopping experience, we've changed up our processes to provide all Bonds & Me members with early information and access to our collaboration ranges – so they can shop the range before everyone else knows about it. We also capped product at 3 items per style. Unfortunately, we can't guarantee that the range still won't sell quickly and products are available only while stocks last. So please ensure you are signed up to Bonds & Me for all the latest news on our launches.
Is there a limit on how many items people can buy?

While many customers are respectful of appropriate quantities for personal use, we recognise that some customers have been buying into our collaboration ranges with the intent of on-selling this product. Our Bonds x Moana collaboration range is now capped to limit of 3 items per size per style with a maximum of 10 items per transaction. We monitor all orders to ensure that these limits are adhered to.
I didn't get a chance to buy the range before it sold out, when will you be restocking?

We're pleased there is a lot of love for the Bonds x Moana range. As this is a limited-edition range, these products are only available while stocks last. Stay tuned for more exciting collaborations coming soon!
I saw the range on ebay and not on Bonds, it's not fair.

We are sorry this has happened and are working through why this happened with our third party wholesale partners. We understand as a Bonds & Me member you want exclusive access to shop and we want to ensure you are the first to know about any new collabs launching. Unfortunately we cannot control customers on-selling product and will always look at ways we can restrict this from happening.
I can't access the range online, how do I see the Bonds x Moana range?

Happy to help, to shop the Bonds x Moana range during the Bonds & Me exclusive shopping period Thursday 21st October 11:00am until Friday 22nd October 9am you will need to be signed into your Bonds & Me account via bonds.com.au. After Friday 22nd October at 9am you will be able to shop the range without being a member.