B-ing Kind is our Non-Negotiable
people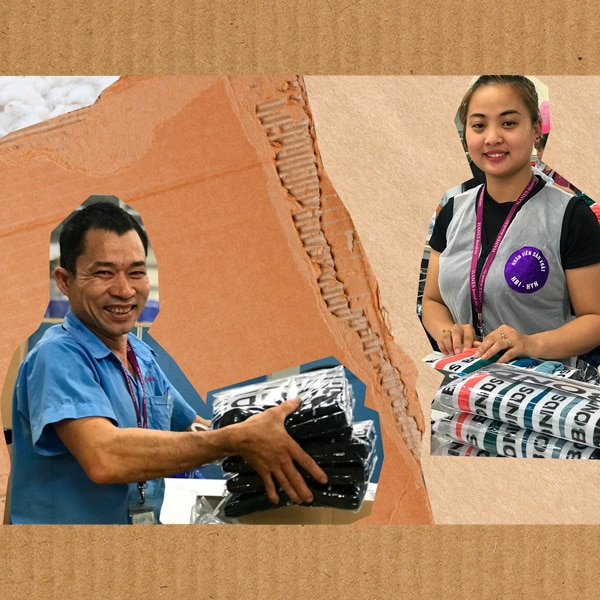 At Bonds we believe in B-ing Kind.
Our BKind philosophy encompasses all that we do, from the products we produce and the environmental resources we use, the supply chain we operate within and every person who works with us, to contributing to our community and ensuring we always maintain the highest standards of governance.
From Sydney to Shanghai and everywhere in between, each person we employ is a member of the Bonds family. Which is why we're passionate about…
Treating employees fairly and with dignity and respect.
Providing a safe and healthy workplace.
Valuing diversity in our staff – in respect to culture, ideas and knowledge.
Ensuring no child or forced labour is used in making our products.
Players within the fashion industry (like us!) have a responsibility to act with fairness, respect and integrity. We're committed to being a leader in the efforts to see an end to unethical sourcing practices and the exploitation of workers in the apparel industry and hold ourselves to the highest ethical standards.
Our Global Standards drive the expectations that are set for all of our manufacturing facilities, owned and third party.
In order to make a real, sustainable difference, we hold ourselves and our suppliers, accountable to these standards.
Our parent company, Hanesbrands, has an established industry-leading ethical sourcing program which has been in place for more than 20 years. Our ethical sourcing program is accredited by the Fair Labor Association (FLA), a global leader in the promotion and protection of workers' rights. We monitor social compliance through extensive, ongoing audits of factories, and by setting clear non-negotiable standards.
Facilities are each audited one to two times a year. Our compliance program goal is to work with facilities to drive continuous improvement, but we will stop doing business with a factory if they fail to correct deficiencies in a timely manner or if "zero-tolerance" issues are discovered such as child labour, sexual or physical assault, or auditor bribery.
We also recognise that everyone who works for us has the right to fair compensation.
Hanesbrands owns and operates most of the manufacturing facilities it uses (unlike most other apparel companies), which means we have the ability to provide a positive working environment for all employees and invest in their local communities. Hanesbrands provides our production employees a living wage comprised of pay, bonuses and in-kind benefits that are sufficient to enable our employees to meet basic needs and have some discretionary income.
Compensation for our production employees, in addition to salary, includes incentives, holiday pay and overtime, and our employees typically receive annual bonuses. We also provide school supplies for children of employees, subsidised meals, health insurance and subsidised transportation.
In Vietnam, Hanesbrands have a decade-long track record of owning ethically run factories which have been visited and reviewed by world-renowned news media outlets, including the New York Times and internationally recognised non-governmental organizations such as the Worker Rights Consortium.
Hanesbrands is also committed to working with our third-party suppliers to meet the living wage guidelines found in our Global Standards for Suppliers. As part of our FLA membership and work, we are continuing to conduct living wage studies will continue to report publicly as part of this journey.
To find out more on living wages and see a video of what our employees have to say, visit https://bondsa.us/wages.
Being kind is not just the right thing to do, it is our commitment to our people and our planet. When you're shopping with Bonds, you can relax knowing that your purchase is supporting a brand who is committed to improving its impact and upholding an ethical supply chain, from the environment to its workers and communities wherever they are in the world.
More information on Bonds Ethical Sourcing Program can be found here.