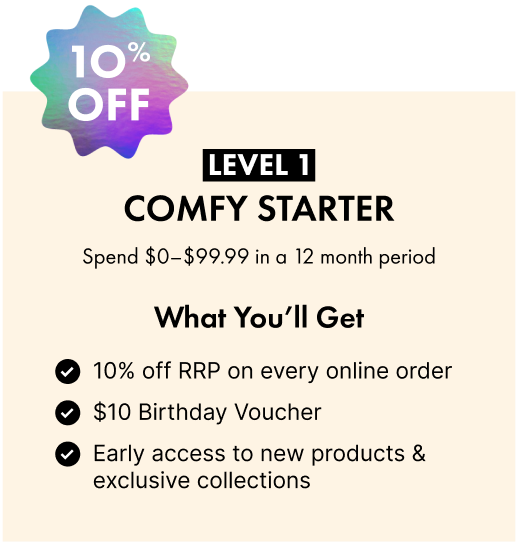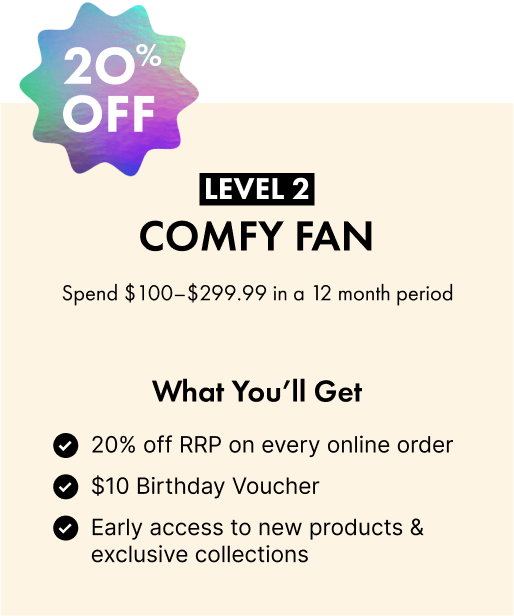 Frequently Asked Questions
Becoming a Bonds and Me member provides you with the ability to obtain 10% off full priced items (RRP price), 20% off when you spend up to $300 within a 12-month rolling period and 30% off once you spend over $300. There are three ways to join:
In store, sign up at the register by providing your name and a valid email address. Overnight, we'll send you an email asking you to complete your full registration online.
If you have an existing Bonds online account, simply sign in and go to 'My Account' then 'My Preferences' and tick the opt-in to Bonds & Me box.
Or finally, if you don't have an account with us and aren't visiting a store anytime soon, you can sign up to Bonds & Me online here.
Make sure you tick the box to receive marketing emails to hear about the latest news, sales and promotions and to receive your birthday gift.
It will roughly take 24 - 48 hours for the accounts to link up! Please note: you will not be able to see your in store purchases in your online account or vice versa.
One of the reasons for this could be that you currently have an in store only Bonds account which you signed up to in a Bonds store. To link your current account with an online Bonds & Me account, simply upgrade here.
Unfortunately we cannot apply member discounts to an order retrospectively once it has been placed.
Sign in to your account using the Bonds & Me 'Sign In' link in the top right-hand corner of www.bonds.com.au. Once you're signed in, click on 'Your Account' in the top right-hand corner and once on this page click 'Account Information' and tick the 'Change Password' option. Simply enter your existing password, your preferred new password, confirm it and click 'Submit'.
If you have requested to change your password and are yet to receive the password reset email, you may not have a member account. To check this, try creating an account using your email address by clicking here. If this doesn't resolve the issue, please contact us on 1800 806 906 (between 9am and 4pm AEST Monday to Friday).
Don't worry, that's an easy fix! Just update your email preference in your Bonds & Me account settings to opt into our newsletters. That means you'll be subscribed to promotional emails, early access invites and of course - your birthday voucher!
Terms & Conditions
% off applies to RRP of full priced items. % off not in addition to other discounts or multi-buy offers. Not available on gift cards, gift boxes, charity items, personalised items, licensed product or where indicated on the product page. Only one membership per person is permitted. Free Shipping to Australian delivery addresses only. Offer is subject to change at any time. Must be subscribed to marketing emails to receive Birthday voucher and exclusive invite offers.