Supporting Aussie Cotton Farmers
product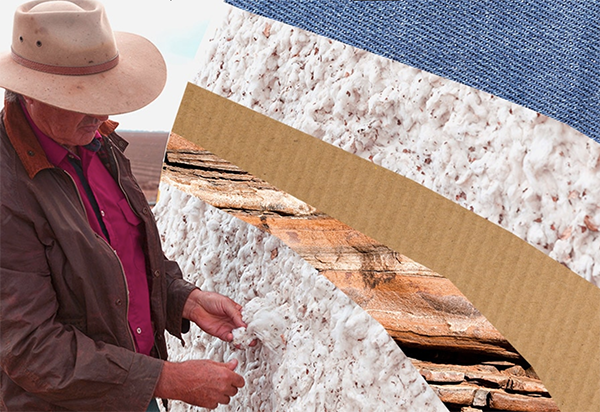 SUPPORTING AUSSIE COTTON FARMERS: MEET A HOME GROWER
When it came to sourcing cotton for our new range of Home Grown™ tees, there was no doubt as to who we'd call upon to help. Since only the purest cotton would do, we teamed up with Cotton Australia to tap into our local cotton farming industry and strengthen our commitment to sustainability. Producing some of the world's purest cotton, there was no better resource than our Aussie farmers to help us achieve our softest, most colour-saturated tees to date.
We met with local Darlington Point farmer, Scott Anderson, to discuss how the Aussie cotton farming industry has evolved over the years and why sourcing local materials is essential to ensuring its future.
Q: How did you get into the cotton industry?
When I was a teenager, I saw a documentary at school regarding the cotton growing industry in northern NSW, which was started by the Americans. I found it very interesting that people from another country came over here to start an industry we hadn't got going ourselves. It had been trialled here but there had been no real moves forward. In 1987, I visited a crop that was being trialled north of Darlington Point (western NSW) and that first sparked my interest in the crop. I had, up until then, been heavily involved in the sheep industry and I wanted to learn the differences between cotton and wool.
Q: Why is Aussie cotton so pure?
Australian cotton is some of the whitest and brightest cotton in the world. One reason is because we get less rainfall during the growing and picking seasons. If you get too much rainfall close to picking you get discolouration.
Q: What's the process once the cotton is picked?
As soon as the cotton dries out, the pickers will move in. They'll pick it at a certain moisture level and wrap it into bales to be transported to the nearest cotton gin. It'll go into the gin, which separates the fibre from the seed and removes leaves and sticks, so you get that nice fluffy white cotton, which is pressed into bales and sent off to be spun into yarn, and eventually ends up with a customer like Bonds.
Q: What impact has the cotton industry had on a community like Griffith?
Cotton is going to become one of the biggest industries in Griffith soon thanks to the building of three gins in the area in the past five years. It employs a lot of people in the local area, as well as backpackers who work seasonally in the gins.The gins themselves sponsor many community projects and public events, which is injecting more money into Griffith.
Q: What sort of effect does using Aussie cotton have on the local industry?
Anything that can be grown in Australia and marketed under a brand like Bonds is of great benefit to our community and country. If it's grown here, consumed here and worn here, it doesn't get much better than that.