Listen, light bladder leaks happen. To LOTS of us, especially mums. But that doesn't mean we have to settle for those crinkly, sticky pantyliners or surfboard-length pads that do zilch for our wallet… or the planet. Pass! Enter our Damn Dry® range - normal-looking undies for a normal piece of motherhood. Reusable and absorbent, they protect against light bladder leaks and neutralise odours to keep you feeling fresh all damn day.
To help spread the word about Damn Dry®, we asked a few of our favourite mums to lead the charge including Ellidy Pullin, podcast host, author and widow of Aussie snowboarder, Alex 'Chumpy' Pullin. After the passing of her husband, Ellidy conceived her daughter, Minnie, through IVF (talk about the true embodiment of a damn strong mama!) We chatted to her about strength, motherhood, post-partum life, and (of course!) light bladder leaks.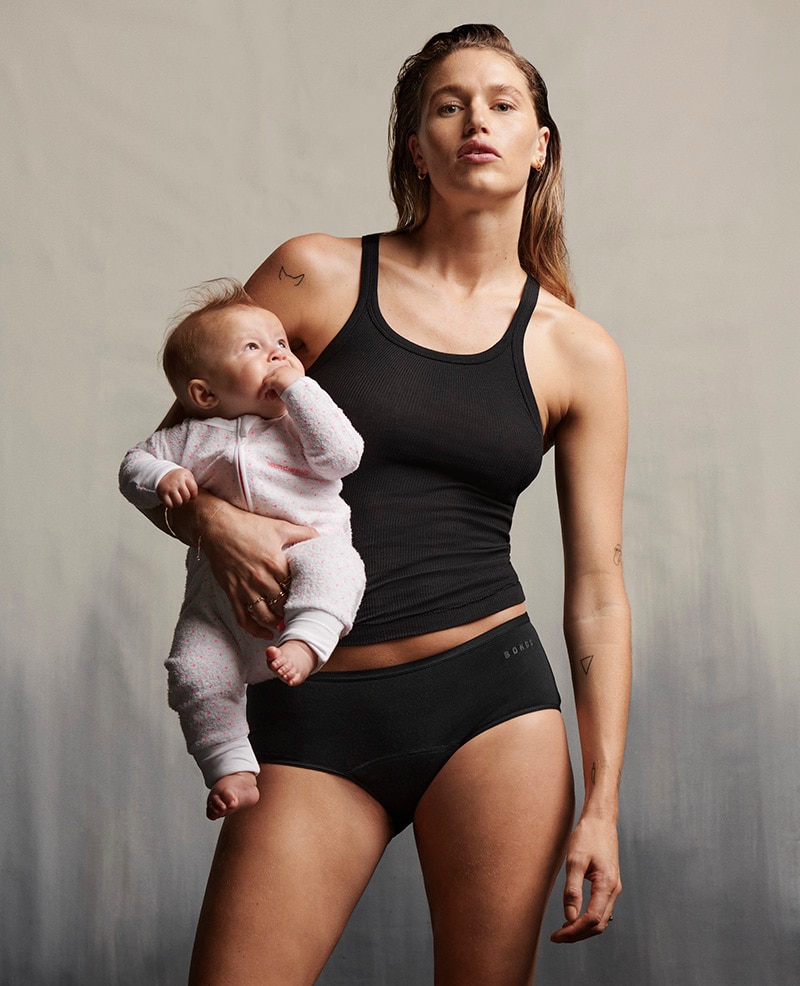 What does being a damn strong mama mean to you?
Honestly, I've been a mum for a hot minute, I'm just following my nose. But when I trust my instincts and go with my gut, I feel in control and excited to tackle motherhood; to learn and grow with my little girl. I feel damn strong, and I feel damn proud to be Minnie's mum!

What do damn strong mamas deserve?
A damn strong cup of coffee in the morning. And to feel damn comfortable in their skin (and Damn Dry).

Why do you believe that vulnerability is so powerful?
I think once you get off your high horse and realise you don't have all the answers, when you succumb to that, you find you'll open yourself up to greater possibilities. Minnie has taught me more about myself in her short eight months than I have learnt in 30 years.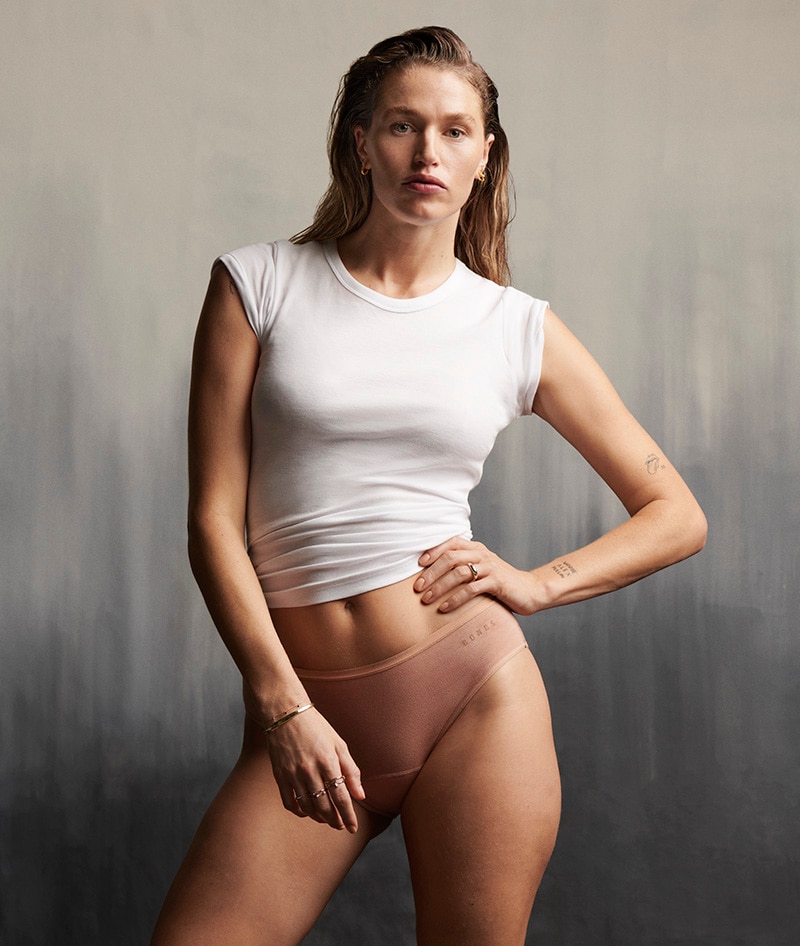 How has your life changed since having Minnie?
Weirdly, not that much. She's on my program so she comes everywhere with me. That's not to say it's always easy; it can be really hard at times. But it's mostly just fun. I find myself really stopping to smell the roses and appreciate the small things. And I've become more patient, thank goodness!

What are your favourite things about being a mama?
I love having a constant plus one, putting my time and energy into this little being and watching her grow. Also, seeing the relationship my family and friends are developing with her, and seeing my beloved Chumpy in her.

What was your relationship like with your post-partum self?
Everyone who gives birth always says, "I'm so in awe of my body." Finally, I get it. I felt that immediately. I am SO profoundly thankful and in awe of the human body and its capabilities. Suddenly I go to the beach and the last thing I'm thinking of while wearing my bikini is what I look like.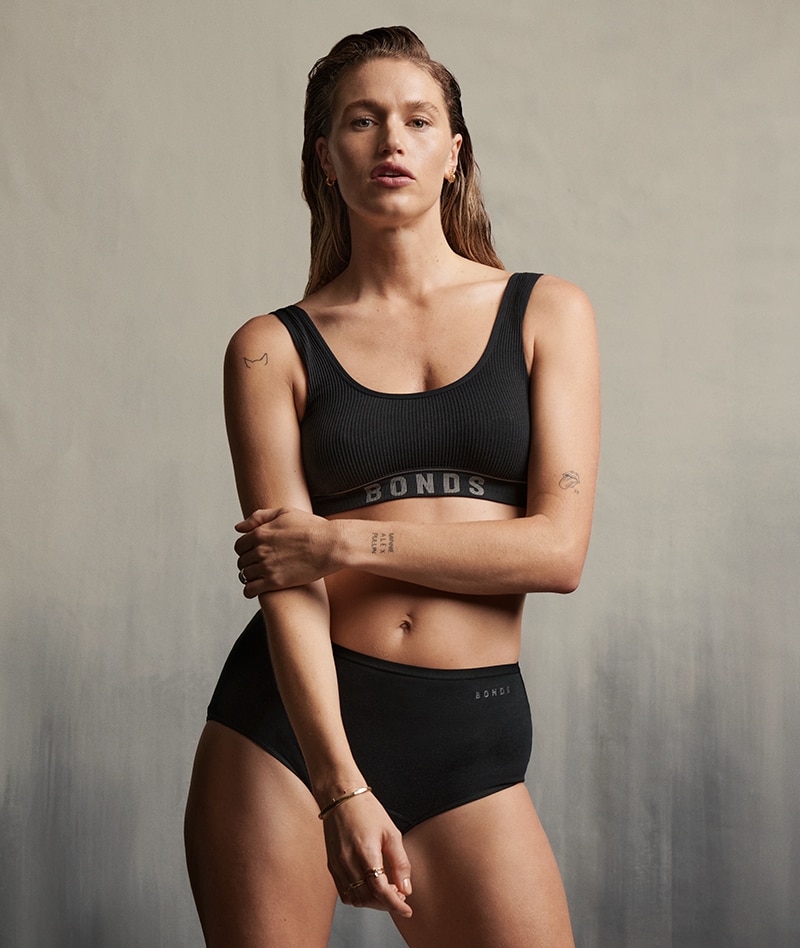 How did light bladder leaks affect your post-partum experience?
I birthed another human; how could I not be having some leakage? I felt like a woman who just had a damn baby, only I wish I had my BondsDamn Dry® undies for the experience, then it might have been a little more comfortable

What are some of your go-to post-partum essentials?
Silverette nursing cups for your nipples and coffee!
Available in full brief, hi bikini and midi brief styles, shop our range of Damn Dry Undies at Bonds stores and online, and via selected retailers.