To help celebrate the launch of our Bonds Explorer range, we asked a few of our favourite Insta-travellers to pen a local's guide, featuring a few of their must-visit places. For our latest Local's Guide, Jonathan Mcmillan takes us on a hiking expedition up Mount Walsh in Queensland.
Mount Walsh is located 1 hour and 20 minutes inland from Hervey Bay. Due to the fact it's a fair trek inland not many people make their way out there, giving you all the more reason to discover this hidden little gem for yourself.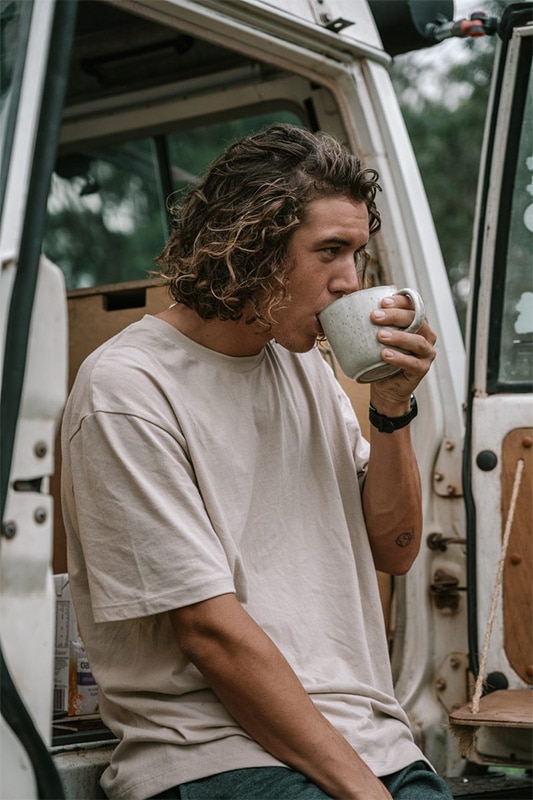 The hike itself is 3.6kms return, consisting of steep crumbling rock and with a steep incline. To add to this free adventure experience, you will come across ropes to assist you in the climb up a rock face. It is recommended you have some hiking experience, and of course are equipped with the correct shoes and a minimum of 1L of water, especially if you do it in the warmer months. Bringing a snack to enjoy for the view up the top is always a good idea too.
We decided to tackle this hike in time for a brilliant sunrise. We had read on other blogs it was dangerous walking down the mountain after sunset, and I couldn't think of a more perfect way to start our day. So, alarms were set for a 4am wake up, we charged our camera gear the night before and packed the bags ready to go. A quick coffee out the back of the Troopy and we were off on our adventure; a race against the sun.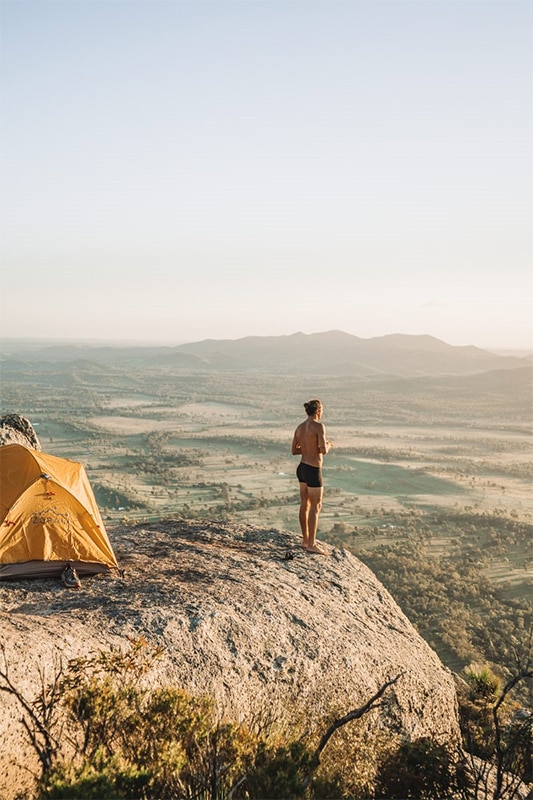 The first half of the walk has a slight incline and is mainly flat with a few rocky sections, so be careful of any rolled ankles in these areas. It's a real leg burner with a few big rocks to step up over, but the real fun starts once you see the ropes. It's definitely safe to use the ropes and I highly recommend doing so. After the ropes, its roughly 10-15 minutes from the top.
You will more then likely have this place to yourself as we only saw a few other people the whole time we were up there. The views from the top were incredible in every direction, but for the best look-out I would suggest heading left and setting up on the big flat rock area. We set up a rug and watched the day come to life. A perfect spot for a photo, with the breathtaking views overlooking the Australian outback. With not a soul in sight it definitely makes it that extra bit special having the whole place to yourself.
An hour of taking photos and watching the warm sun come up it was time to head back down. Be sure to take it easy on the down hill and be careful on the ropes. After your legs have recovered from the hike be sure to head to the rock pools that are also located in Mount Walsh. Only 15 minutes from the bottom of the hike itself, its a short walk to the pools and is a great way to recover.
Happy hiking!
Written by Jonathan Mcmillan.
Check out the new Bonds Explorer range for the family here.