Japanese born and raised, Sydney-based artist Kentaro Yoshida has found a way to unite his passion of Aussie surf and skate culture with his love of Japanese manga illustration. At Bonds, we're stoked to be able to launch his new limited edition men's range, full of quirky, colourful prints tinged with a comical tone to reflect his own sense of beach-side humour.
We sat down with Kentaro to discuss the inspiration behind his art, his creative process and how the recent pandemic has affected his work life over the past couple of years.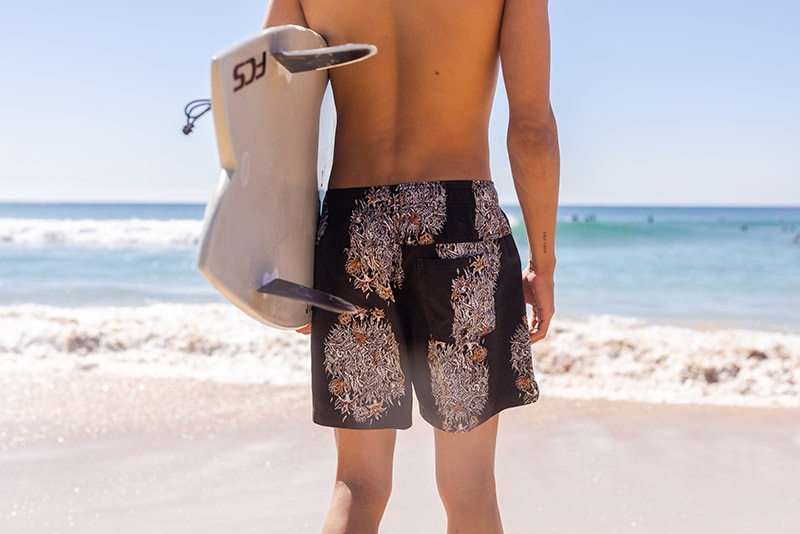 Did you ever imagine the men of Australia would be walking around with your prints on their jocks?

I never thought about it to be honest. And jocks were also the product I have never seen my graphics on so it was interesting to see the outcome for sure.
How has your upbringing in Japan and move to Australia influenced your work?
I was born and grew up in a little fisherman town in Toyama, in the mid-north part of the main island of Japan. My mom is a glass artist so I used to hang out a lot in her studio and doodle Japanese comic characters from Dragon ball and Pokemon. I arrived at Australia in 2004, after I graduated from high school. My mom suggested I go overseas, so I decided to come here to study English. I was planning to stay in Australia for 10 months, but I am still here 18 years later. I've loved Japanese comics (manga) since childhood and I still read them. They have influenced and constructed my illustration style, as well as the the people and places I have seen or visited throughout my life in Australia.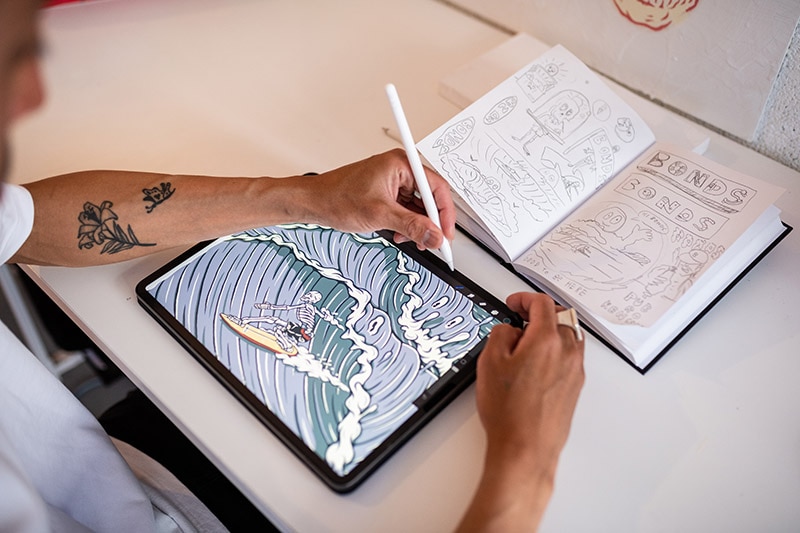 What does a typical day in the life of Kentaro Yoshida look like?
It depends on the surf conditions, but I like a quick surf from first light to sunrise, then going home and having a brekky with my girls. Then either working at a studio or working in a van if I want to surf again. If it is a nice day, I like to hit the local pub with my girls or my mates, both are good times.
What music, if any, is playing while you're working on your magic in the studio?
I used to listen Japanese '90s rock music for so long. But now I dig Japanese young hip-hop artists and producers on YouTube and Spotify.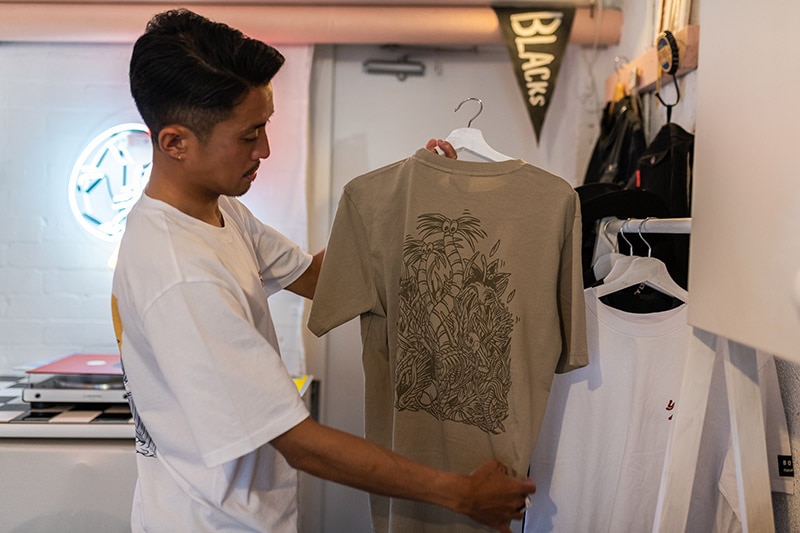 How has the pandemic and lockdowns affected your working life over the past two years?
Fortunately, I have had some nice projects in the last couple years. I also could illustrate digitally that's why I could work from home for a few clients during lockdown as well. I also could survive through the latest lockdowns because of my family. Although we had to stay at home doing the same routine over and over, I could see the change of day and life by observing my daughters. Also, lockdowns made my routines simpler too. I woke up early, went surfing, worked on projects, then had a good time with my daughters and had a couple tinnies with my wife after work. It was nice to live in a simpler routine.
How does it feel to create and collaborate on your own clothing range?
Collaborating with an iconic Aussie brand like Bonds is a great opportunity to show my work and perspective of Australia - not just the people in Sydney, but everyone from other parts of the country too. I hope everyone gets my little imaginary world and execution.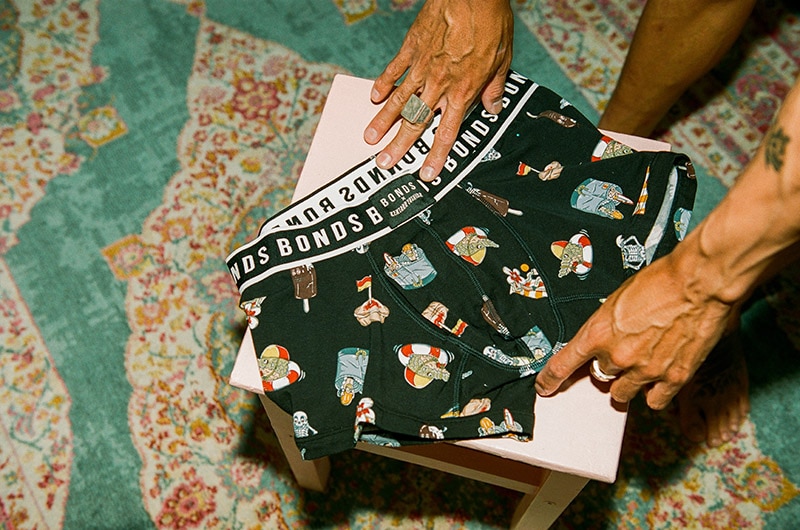 Do you have a personal favourite piece?
My personal favourite is the skeleton surfing on wave monsters, as I've liked drawing these characters for a while. And the "YEAH NAH" type is my personal favourite artwork too so I will wear it a lot this summer!
Does humour play a role in your work? Why do you think that's important?
I think so. In manga, there are often hidden details and messages in the backgrounds. That's one of the most beautiful things I found when I was into reading manga, therefore I like to always add hidden messages as humour into my work. I believe these tiny details add layers and depth and make it more enjoyable or meaningful.


Check out the new limited edition range, featuring men's tees, shorts and undies by Kentaro Yoshida. Only while stocks last.